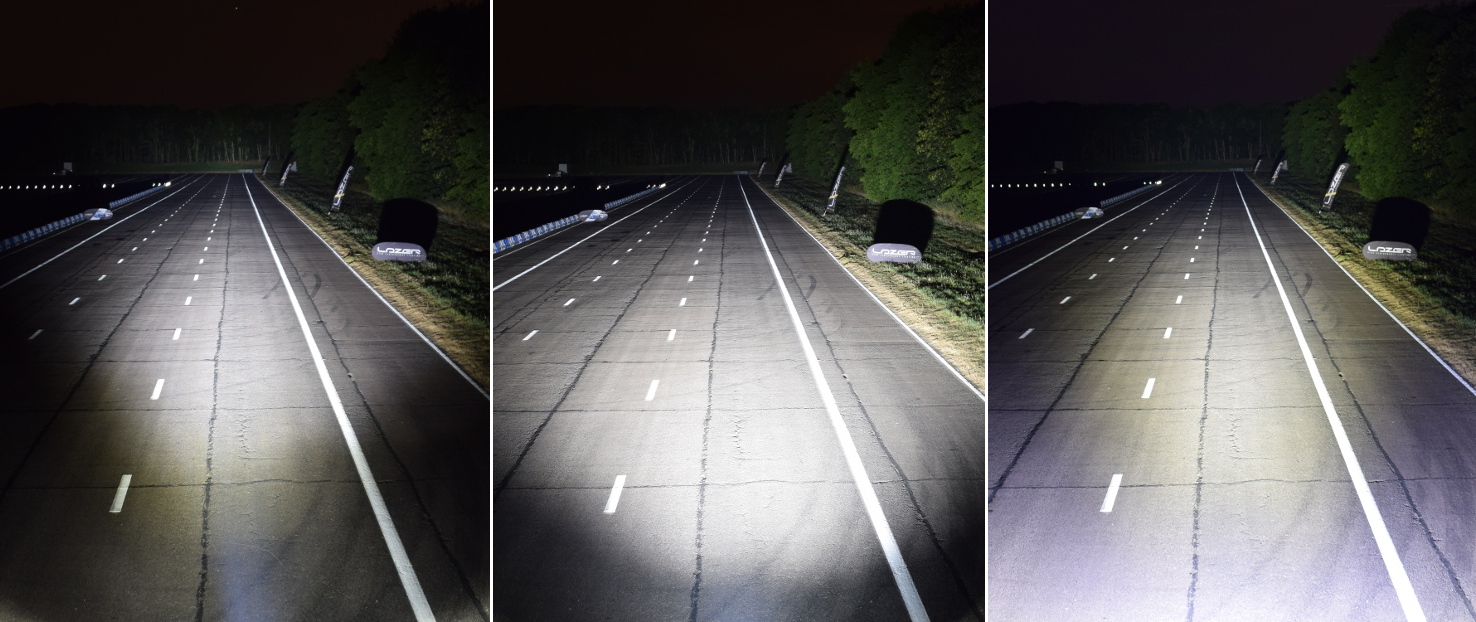 LED technology is moving fast, not only becoming more efficient, but more reliable as well. As a market leader and innovator, we're constantly looking to upgrade products and launch new ones, optimising lighting performance for different applications depending on: the intensity of light, visibility at the sides of the road, and up/down spread. Considering our different products, and new and upgraded products available since this Autumn (including our Linear and Triple-R Elite-3 ranges), here we look at the differences in beam patterns and when and where some products might perform better than others.

TRIPLE-R
Example: TRIPLE-R 1000
Peak: 368k cd
Horiz: 11° spread
Vertical: 14° spread
(2% of peak)
The Triple-R Standard range delivers excellent long-range visibility in a spot beam pattern, with a comfortable left/right spread of light in the mid-long range. What you don't get is much light close to the vehicle at the sides of the road. The Standard range has also been designed to give more vertical spread relative to the equivalent Elite or Linear products, not so much to cause any big issues when mounting lights at licence plate height, but it is true that proportionately more light will hit the road relatively close to the vehicle. For that reason, the Triple-R Standard is especially well suited to higher mounting positions, e.g. roof bars, upper grille installs.

TRIPLE-R ELITE
Example: TRIPLE-R 1000 ELITE-3
Peak: 456k cd
Horiz: 21° spread
Vertical: 9° spread
(2% of peak)
The launch of our 3rd generation of Triple-R Elite was much anticipated, with good reason, and the light performance is such that we confidently label these products our ultimate road-legal driving lights. Higher output/intensity LEDs compared to the equivalent Standard products, coupled with a modified reflector system, give even more distance illumination, with improved visibility at the sides of the road – the 2% of peak line at 21 degrees spread versus 11 degrees on the equivalent standard product. Improved illumination at the sides of the road are in part made possible by a reduced up/down spread of light, which means that the Triple-R Elite can be confidently mounted even low down close to the ground, without worrying about a bright spot on the road directly in front of the vehicle. The Triple-R Elite (Gen3) utilise much of the same internal electronics and optical systems as our Carbon Series lights, so represent an excellent choice for the Motorsport sector.

ST EVOLUTION
Example: ST8 EVO
Peak: 154k cd
Horiz: 28° spread
Vertical: 24° spread
(2% of peak)
Ask anyone who has driven with the ST/T Evolution lights and they'll tell you the 'drive' beam pattern, which delivers a symmetrical beam pattern left/right and up/down, coupled with an intensity of light far above any standard vehicle high beams, is exceptionally comfortable for everyday road use. An excellent spread of light across the short and mid-range also works wonders for any 4x4 and off-road excursion. Having improved all-round visibility does mean you forfeit some distance illumination compared to the Triple-R lights, so consider the type of roads or terrain you'll be driving as to whether more distance or better spread is preferable. Inevitably a taller vertical spread of light associated with the ST/T Evo lights means they are better suited to slightly higher mounting positions, and consider if glare could be an issues if roof-mounted above the bonnet of a car.

LINEAR STANDARD
Example: LINEAR-12
Peak: 122k cd
Horiz: 34° spread
Vertical: 11° spread
(2% of peak)
The Linear range was designed and engineered, in part, around feedback from 'road' customers that were looking for a reduced up/down spread of light and more visibility at the sides of the road compared to our Triple-R Standard and ST Evolution lights. With the Linear Standard, you have a cost-effective range of high performance driving lamps that deliver superior levels of illumination compared to standard high beams, with better distance and left/right visibility, albeit still half the total light output which you could expect form the equivalent Linear Elite, Triple-R or ST product. The up/down spread is also tighter than even the Linear Elite or Triple-R Elite, providing proportionately less light on the road directly in front of the vehicle even when mounted very low down, e.g. lower grille apertures.

LINEAR ELITE
Example: LINEAR-12 ELITE
Peak: 158k cd
Horiz: 42° spread
Vertical: 15° spread
(2% of peak)
If space is tight or you want a low-profile slimline solution, with lighting performance akin to the larger ST or Triple-R products, then the Linear Elite is for you. For a product its size the lighting performance is exceptional, and similar to the Triple-R Elite in respect of the light distribution; increased intensity of light to deliver more long-range visibility, and providing very good levels of light at the side of the road in the mid-range. The Linear Elite, like the Linear Standard, is equally well suited to both high or low mounting positions but consider that because of the Elite delivers double the light output, inevitably proportionately more light will hit the road close to the vehicle when mounted very low to the ground.